RUSSIA
Just a new update on the Russian roster, as indicated by head coach Sergei Bykov
Ovechkin - Fedorov - Semin
Kovalchuk - Malkin - Afinogenov
Kozlov - Datsyuk - Radulov
Zaripov - Zinoviev - Morozov
Basically Datsyuk and Fedorov have been switched. Smart move, you got really good chemistry on that top line (from Washington), and Fedorov brings that defensive responsibility to the 2 more freelancing wingers. Datsyuk brings that same defensive presence but with an injection of elite offensive playmaking ability playing alongside snipers Radulov and Kozlov. I like the move. Spread around the talent and defensive forwards.
CANADA
One of the tournament favorites, the Yzerman-led Canadians released their 23-man roster on December 30th. Here are my ideal line projections:
Rick Nash - Sidney Crosby - Patrice Bergeron
Dany Heatley - Joe Thornton - Patrick Marleau
Eric Staal - Ryan Getzlaf - Cory Perry
Brendan Morrow - Mike Richards - Jarome Iginla
Jonathon Toews
Scott Niedermeyer - Shea Weber
Chris Pronger - Dan Boyle
Duncan Keith - Brent Seabrook
Drew Doughty
Martin Brodeur
Roberto Luongo
Marc-Andre Fleury
Pretty good lineup. Shocked to see Bouwmeester isn't there, but I guess you gotta trust Stevie Y. The top 3 lines are pretty stoppable by any of Russia's top-3 lines. That 4th line however looks like a menace to society. Obviously the favorites heading into the tournament, but by no means would I say they would beat Sweden or Russia that easily.
SLOVAKIA
Although not deep, the Slovak's have great high-end talent in their top line and top defensive pairing. They probably won't win Gold, but they usually do find a way to pull some upsets in international tournaments. Could be a medal threat if things go well.
Marian Gaborik - Pavol Demitra - Marian Hossa
Miroslav Satan - Michal Handzus - Zigmund Palffy
Richard Zednik - Jozef Stumpel - Lubos Barteck
Marcel Hossa - Martin Cibak - Branko Radivojevic
Tomas Kopecky
Zdeno Chara - Lubomir Visnovsky
Andrej Meszaros - Milan Jurcina
Andrej Sekera - Richard Lintner
Jaroslav Halak
Peter Budaj
Rastislav Stana
CZECH REPUBLIC
A lot of offensively capable players here for the Czechs, one might worry about their lack of defensive ability with both their forwards and defense. The loss of perhaps the top NHL Czech in Ales Hemsky could also be a big hole in their lineup.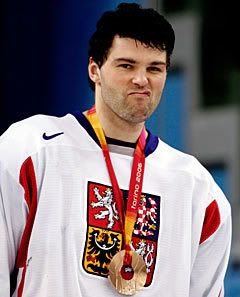 Patrik Elias - Tomas Plekanec - Jaromir Jagr
Milan Michalek - David Krejci - Martin Havlat
Tomas Fleischmann - Petr Cajanek - Martin Erat
Roman Cervenka - Josef Vasicek - Tomas Rolinek
Tomas Kaberle - Jan Hejda
Filip Kuba - Zbynek Michalek
Marek Zidlicky - Pavel Kubina
Miroslav Blatak, Roman Polak
Tomas Vokoun
Ondrej Pavalec
Jakub Stepanek
FINLAND
Always a threat to medal, the Finns always look average on paper but seem to play their hearts out at the Olympics. They have a pretty good looking lineup here, and I wouldn't be surprised to see them in the Bronze Medal Game.
Niklas Hagman - Mikko Koivu - Teemu Selanne
Tuomo Ruutu - Olli Jokinen - Valterri Filppula
Antti Miettinen - Saku Koivu - Jere Lehtinen
Jarkko Ruutu - Jarkko Immonen - Ville Peltonen
Niko Kapanen
Kimmo Timonen - Joni Pitkanen
Toni Lydman - Sami Salo
Lasse Kukkonen - Janne Niskala
Sami Lepisto
Miikka Kiprusoff
Nicklas Backstrom
Antero Nittymaki