Since the end of the lockout in 2005, the status of NHL relations with the KHL (or RSL as it was known before 2008) have been shaky to say the least. The two leagues have butted heads over and over again about players transferring between them, upsetting teams and fans alike in both nations. With the competitive nature between the two leagues has come the failure to establish a true transfer agreement, a problem that makes it extremely difficult for NHL teams to bring Russian prospects to North America to play for them.
With the "Russian Factor" have come changes in the way teams are approaching the NHL Draft. Although year after year Russian players are among the top rated prospects in the game, they have consistently dropped in the draft order because of teams fearing that a) the lack of a transfer agreement would make it difficult to actually bring the player over, or b) the players would be reluctant to leave the KHL to come to a new country.
Some pretty big names have dropped in the draft for this very reason (Rankings from TSN):
2006
F Alex Vasyunov
(ranked 23rd) fell to 58th overall
F Artem Anisimov
(29th) fell to 54th overall
2007
F Alexei Cherepanov
(4th) fell to 17th overall
F Maxim Mayorov
(25th) fell to 97th overall
2008
D Vyacheslav Voynov
fell to 32nd overall (27p in 34g in the AHL as a 20 year old)
F Andrei Loktionov
fell to 123rd overall (27p in 28g in AHL as a 20 year old)
2010
F Vladamir Tarasenko
fell to 16th overall (ISS had him as #4, dominant in WJHC)
F Ivan Telegin
fell to 110th overall (ISS had him 55th)
F Maxim Kitsyn
fell to 158th overall (ISS had him 49th, dominant in WJHC)
It makes sense that teams don't take fliers on these super-skilled Russians - why waste a draft pick on a kid who might not ever come over to play for you?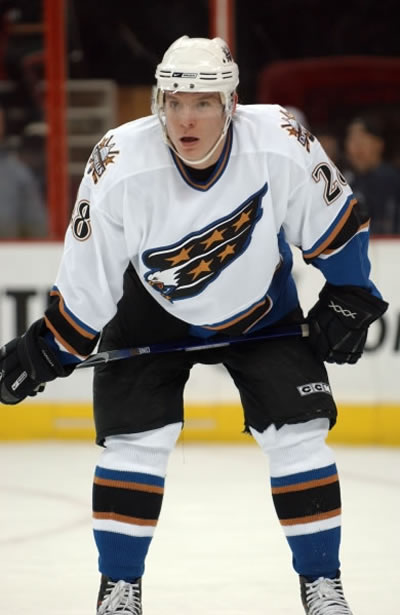 Well one team has completely bypassed the "Russia Factor" - the Washington Capitals. Since picking Alexander Ovechkin 1st overall in 2004, the organization has become the primary hub for Russian players in the NHL. Ovechkin has become an international ambassador for the game, and someone that all Russians look up to as a representative for their nation. His presence alone has attracted much attention to the Capitals in Russia, and it's no surprise that a bevy of Russians have headed to Washington to play with the national hero:
2002 13th overall selection
Alexander Semin
was essentially a "lost prospect" for the Capitals after the lockout. Although he'd had a stint with the Capitals before the lockout, Semin seemed uncomfortable in North America. He had a terrible grasp on the English language and seemed willing to spend the rest of his career playing for Tolyatti Lada of the RSL. But Ovechkin's arrival and success in Washington during the 2005-2006 season was a driving factor in Semin deciding to return to North America for the 2006-2007 season. He is still yet to get a solid grasp on the English language, and is considered somewhat of an introvert in the Capitals locker room. Yet he's stuck with Washington for 5 years now, and seems poised to sign a long-term extension to remain playing with his friend Ovechkin.
Prominent Russian free agents have also flocked to Washington to play alongside Ovechkin. Veterans like
Viktor Kozlov
and
Sergei Fedorov
signed with the Capitals, a team that was starting to become heavy with the Russian influence, as evidenced by this interview:
Another consequence of the "Ovechkin Effect" has been the Capitals' aggressive drafting of Russians through the NHL Draft. They have been unafraid of drafting flashy Russian prospects that other teams overlooked due to the "Russian Factor":
2006:
G Semyon Varlamov (23rd overall) - Stud future #1 goaltender
2008:
F Dmitri Kugryshev (58th overall) - 10p in 33g in AHL as 20-year old
2009:
D Dmitri Orlov (55th overall) - Blue-Chip Dman, 2011 WJHC All Star, compared to Andrei Markov
2010:
F Evgeny Kuznetsov (26th overall) - Malkin-like skill forward, 2011 WJHC All Star, on pace for higher point output at age 18 than Alex Ovechkin
F Stanislav Galiev (86th overall) - Skilled 2-way forward from the QMJHL, style compared to Giroux/Datsyuk
Already enjoying the fruits of the
Semyon Varlamov
pick, the Capitals seem poised to capitalize on the selection of 3 other recent Russian selections, as Orlov, Kuznetsov, and Galiev have all made a case for NHL jobs in the past season. All three of these players were highly-rated players heading into their respective drafts, but saw their value fall due to their Russian background (yes, even Galiev, who was playing in North America at age 16).
Dmitri Orlov
(6', 205lb) seems poised to join the club within the next couple years, and could instantly grab a top-4 role with his great 2-way play. He's a dynamic skater with great play-making ability thanks to his vision. He also has a booming slapshot from the point that should make him an offensive threat for years on the Capitals blue-line. Plays an Andrei Markov-like game defensively - a complete defenseman with #1 potential, something we saw at the recent WJHC where he was named to the tournament All-Star team.
Evgeny Kuznetsov
(pictured, 6'1, 180lb) has exploded this year as an 18-year old. He's toughened up his game, showing a willingness to battle along the boards in addition to dominating in open-ice. He's your typical skilled big-bodied Russian forward, with great skating, shooting, and passing. He could dangle for days on end if he could. His dominance in the recent WJHC (2nd in scoring) allowed him to garner tournament All-Star honors, and his style and developmental rate suggest the RW could be joining Ovechkin and Semin very soon as yet another deadly threat up front for the Capitals.
Stanislav Galiev
(6'2, 190lb) is a unique type of Russian - one willing to play the 2-way game. He has the typical Russian skill, great hands, vision, and shooting, and couples it with the effort on the defensive side. Many have raved that he could be Russia's answer to Claude Giroux - a great asset to have given the surplus of purely offensive stars on the team.
All three of these players have shown great excitement at being selected by the Capitals, and have indicated that they are willing to come over to North America when the team is ready for them. It's rare to have this much enthusiasm from Russian prospects - and a lot of it has to do with having Ovechkin as the team leader and face of the team.
The Oilers could take a page from Washington's playbook in regards to this trend with their current young stable of Swedish prospects.
Magnus Paajarvi
is arguably the most hyped forward prospect to come out of Sweden since Peter Forsberg (yes, even moreso than Backstrom and the Sedins), while
Linus Omark
has captured the hearts of Swedes everywhere. With
Anton Lander
coming up in the wings and the potential for
Adam Larsson
or
Gabriel Landeskog
joining that bunch in the upcoming draft, the Oilers could set up something similar to what Detroit has done in the past 15 years - become the ideal destination for Swedish players looking to join the NHL.